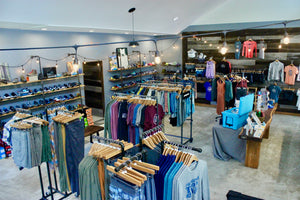 Locally Owned and Operated
SOUTHEAST OHIO'S SPECIALTY RUNNING STORE
COMMUNITY MINDED - CUSTOMER FOCUSED
WE UNDERSTAND YOUR PASSION
ROAD TRAIL OR RIDGE
We're located just steps from OU's main campus
OVRC is SE Ohio's only specialty running, walking, and fitness shop. We pride ourselves on our customer service, and will go out of our way to help you find the right shoe for your biomechanics - whether your passion is running, walking, hiking, road, or trails. We offer free gait analysis as well as free Aetrex 3D foot scanning. No appointment is necessary. OVRC is locally owned and operated by Jonathan and Ariana Bernard. Jonathan is an Athens local and Ohio University graduate who returned to Athens after 14 years on the West Coast (with his Seattle-reared wife) to open the shop.
Weekly community group runs for runners and walkers of all abilities take place every TUESDAY at 6:00pm at OVRC. Runs take place on the bike path, so you have the opportunity to go as short or as long as you'd like.
Weekly community running/walking workouts for athletes of all paces take place every THURSDAY at 6:00pm, meeting at OVRC. Workouts are led by Coach Ali Wayner and/or Mary Kate.
CYBER MONDAY APPAREL DEALS!
---
Ohio Valley Running Co.
20 Station St
Athens, OH 45701
740-592-0059
Mon - Fri: 10:00am - 6:00pm
Saturday: 10:30am - 5pm Sunday: 12pm - 5pm